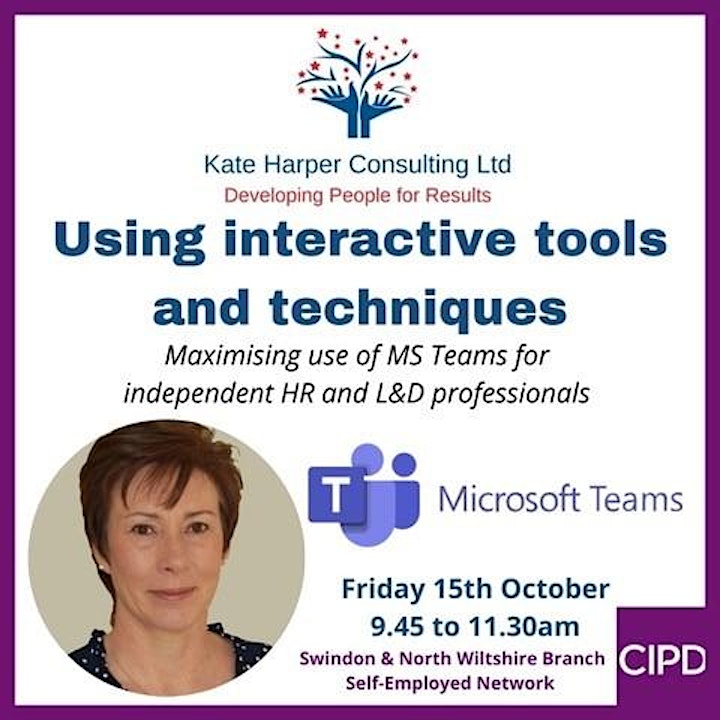 Due to the current Covid-19 situation, we will deliver this event as a webinar. Thank you for your support and understanding at this time.
Using interactive tools and techniques in Microsoft Teams - Self Employed Network Event
This event is open to those who are currently operating in the self employed / independent space or for those considering it
Event details:
As independent L&D and HR practitioners, we have had to learn over the last 16 months how to engage remotely with our clients, whether that is running meetings, holding coaching sessions or facilitating workshops. Many of us would not have chosen to operate in this way - but necessity is the mother of invention! As we have discovered more about the platforms available to us, some of us have also become aware that they come with some great tools and techniques which can enhance our professional capability and deliver a cost-effective service for our clients - but are we using them to best effect and can we continue to offer this capability post-lockdown as a credible and cost-effective alternative to face-to-face engagement where appropriate?
Kate Harper, independent L&D consultant and coach, was already living overseas when we went into lockdown and saw the changes we were all forced to make to our ways of working as an opportunity to enhance her own skill-set by teaching herself to use the online tools offered by Microsoft Teams. She has successfully used these in online sessions since and would now like to share her learning in an interactive and practical session for SEN members on the 15th of October. As the session will offer participants the opportunity to try the tools for themselves, numbers will be limited but we will operate a reserve list.
More about Kate Harper:
Kate is a professionally qualified learning and development (L&D) specialist with more than 25 years of relevant experience gained through working with public, private and voluntary sector organisations. She was a secondary school teacher and then spent nearly 20 years as an Army officer in the Educational and Training Services branch. Since leaving the Army, she has worked in various senior leadership and L&D roles which have further broadened her experience.
Timings / Agenda:
09.45 Networking
10.00 Session Part 1
10.40 Break
10.50 Session Part 2
11.30 / 11.45 Close
This session is hosted by CIPD Swindon & North Wiltshire Self-Employed Network. The session is free to CIPD members (including members of other branches) and non-members are welcome to attend for a small charge.
Additional Information:
Please note this event may be recorded for future viewing. By registering for and attending this event, you are voluntarily acknowledging and accepting this may be a recorded event.
Coronavirus:
The CIPD is providing Coronavirus advice to Employers both online and in the media. You can find up to date information on the CIPD's website "here".